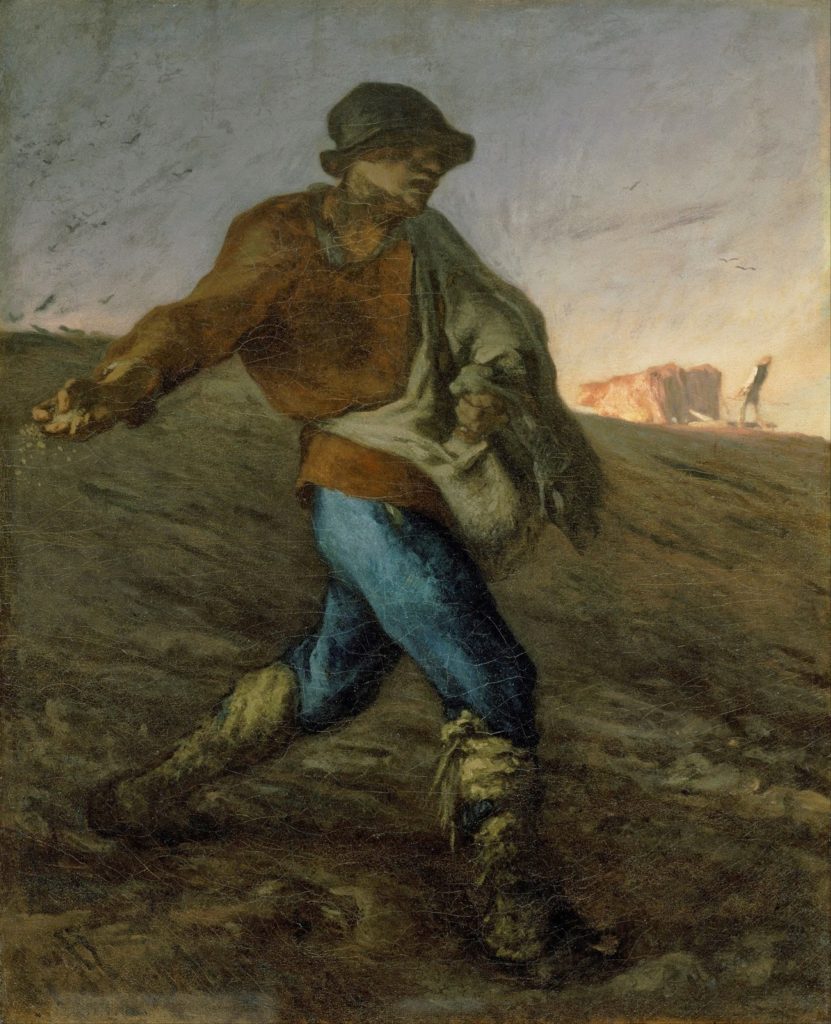 The Sower, 1850 – Millet
We began a new semester of our Charlotte Mason community, Truth, Beauty, Goodness. You can see our schedule and a few new pics on the TBG page. So many good things! I hope to eventually share those things with you. Meanwhile, here are some thoughts on Charlotte Mason's beloved Jean-Francois Millet.
Our first print to study was The Sower. Heidi read this sublime passage to us:
Millet
produced a figure which had long occupied his thoughts. We know what a
serious affair the sowing is to an agricultural people. Plowing,
manuring, and harrowing are done with comparative indifference, at any
rate without heroic passion; but when a man puts on the white grain-bag,
rolls it around his left arm, fills it with seed, the hope of the
coming year, that man exercises a sort of sacred ministry. He says
nothing, looks straight before him, measures the furrow, and, with a
movement cadenced like the rhythm of a mysterious song, throws the
grain, which falls to the earth and will soon be covered by the harrow.
The rhythmic walk of the sower and his action are superb. The importance
of the deed is real, and he feels his responsibility. If he is a good
laborer, he will know how much seed to throw with every fling of his
hand, adjusting the amount sown to the nature of the soil.

-from Jean-Francois Millet, Peasant and Painter by Alfred Sensier
We learned that Van Gogh copied many great works by Millet. Read about these fascinating copies here.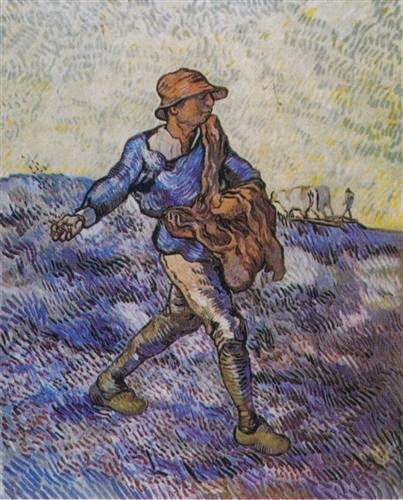 The Sower, 1889 – Van Gogh
It's going to be a great term around here!
For those who wish to continue reading on Millet, there is a nice lecture by Mr. Yates that can be found at the Charlotte Mason Digital Collection in the June, 1905 edition of L'Umile Pianta. If you simply search for "Millet" you will find it as well as another short article on Millet.
May all your goings be graces,
Nancy