I am available a few times per year to speak at retreats, conferences, teacher in-service training and other events.  I also do live webinar presentations, personal consultations, and online lessons. Contact me at sageparnassus@gmail.com for more information.
Parenting the Young Child: Best Practices From Charlotte Mason For a Life of Wonder
Citizenship in the Curriculum:  Mason, Magnanimity, and the Moral Life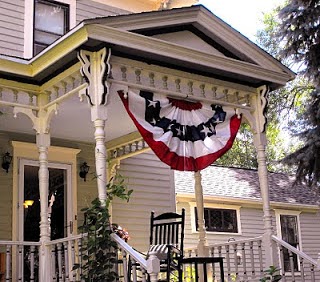 Nancy will present an in-depth look at how Charlotte Mason and the PNEU schools approached the subject of citizenship and character development, an area she has been researching and practicing for years.  Through Mason's own works, a picture talk, poetry, and personal stories she will explore Mason's claim that our function as teachers is "to supply children with the rations of knowledge which they require; and the rest, character and conduct, efficiency and ability, and that finest quality of the citizen, magnanimity, take care of themselves."
Plutarch: Prince of Biographers!
The Way of the Teacher: Humility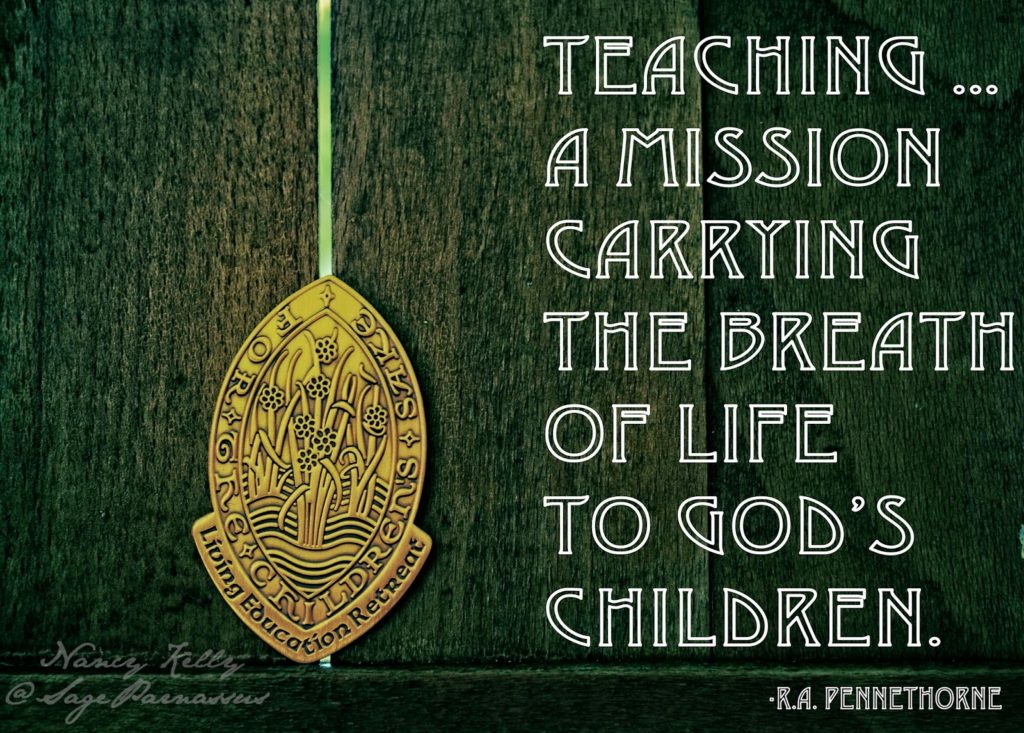 What postures do we take in our homes, schools, and communities?  There are many lessons to be learned from L'Umile Pianta (The Humble Plant), the publication by the alumni from Charlotte Mason's House of Education and the badge chosen by the Old Students' Association. In this session, Nancy will explore how the lessons shared back then can help us today as we examine Mason's thoughts on humility. This session will make you stop and think about how you approach education in any venue.
Shakespeare: The How and Why

Truth, Beauty, Goodness: The Story of a
Co-op

Community
                                            TBG Teens (The Hive)
Our Schedule, Our Atmosphere
Qualified for Life: High Schoolers as Persons
The Well-Balanced Mind: The Imagination Factor
New Thoughts of God: Living Bible Lessons
Charlotte Mason said that Bible teaching should be "as the warp in and out of which the child weaves other knowledge and other thought." In this workshop, Nancy will take attendees through an immersion session of a Bible lesson, which introduces children to "new thoughts of God" every day.

Ourselves (Volume 4) and Moral Development: A Third Position
The Cloud of Witness
What is it? How do I use it?  Why is it important? Nancy will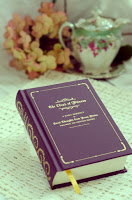 talk about how she went about reprinting this book, why you should read it, how it helps you travel through the Christian seasons,  and its importance to Charlotte Mason. An inspiring picture study and calendar helps are all part of this talk.

What was this document that Miss Mason considered to be so important that she gave a copy to each graduate from her teacher-training college?  In this talk, you will hear the three ideas that CM considered to be the most inspiring through an exploration of the badge, a picture study, and an explanation of the Great Recognition.
Immersion Group
In an immersion group session, Nancy will demonstrate a morning in a multi-age homeschool using Mason's methods.  Despite the large age range in many homeschools, adherence to the principles and practices in every area can make this rich education possible.  The focus will be on subjects that can successfully be combined with multiple ages.  Subject areas that may be presented will include Bible, dictation, citizenship, Shakespeare, Plutarch, hymn, folksong, copywork, picture study, composer study, natural history, literature, nature study and geography. Attendees experience being the student, practicing different forms of narration, and sampling the banquet of ideas which brings a fuller understanding of the method.  This session is 3 hours long and a 1.5 hour question and answer session will follow.
Here is a review from an immersion attendee:

Participating in Nancy's Multi-Age Homeschool Immersion was insightful for our homeschool in many ways. First, and most importantly, it brought more grace and peace into our home because I had not fully understood the Mason theme that "the only education is self-education." It is one thing to teach using the Charlotte Mason method and another to be taught. Being immersed as a student showed me that narration is not as easy as it looks from behind the book! It really helped me to start listening for what my children heard as opposed to what they didn't hear. When I went home to be a teacher, I had more empathy for the work that it takes to be a student using the Mason Method. Secondly, the immersion really gave me peace and assurance that educating my children can be as simple as excellent books and engaging conversation. Nancy brought both those things to the class. She introduced the class to some lovely living books (some of which my children have adored!), and brought her years of experience to provide reassurance and confidence. Lastly, it was enlightening to process everything with the group, gaining confidence in what I already did well and recognizing some things I could add or do differently. 
-Susan Steffen
High School Immersion
During this experience, Nancy will demonstrate methods used in a high school setting using Mason's methods. High school is a deepening and continuation of the principles and practices of Charlotte Mason's educational philosophy. Lessons that are for older students will be demonstrated and may include science, citizenship, Bible, composition, geography, picture study, literature, picture study, literature, history, math, and other subjects. Attendees experience being the student, practicing different forms of narration and sampling the banquet of ideas which brings a fuller understanding of the method.  Currently, Nancy has graduated 3 of her own children using Mason's methods and teaches 10 others in her CM Community – TBG Teens (The Hive).
Here is a review from a high school immersion attendee:
Articles in Print
Speaking Resume

In a Large Room, Washington D.C., 2/2/17
Charlotte Mason Experience Immersion, Sauk Center, MN, 3/18/17
Educating the Heart, Gilbert, AZ, 4/6/17
Charlotte Mason Institute Conf., Wilmore, KY, Asbury University, 6/14/17
Living Education Retreat, Okoboji, Iowa, 7/6/17
CM West Conference at Puget Sound, Federal Way, WA, 9/29/17
Weekend of Living Ideas, Spirit Lake, IA, 10/20/17
Grace to Build Retreat, Black Mountain, NC, 10/3/17
Ideas For Living Retreat, Brownstown, IN 2/2016
Charlotte Mason Institute Conf., Wilmore, KY, Asbury Seminary, 7/2016
Living Education Retreat, Okoboji, IA 8/2016
Delightful Living, A CM Education Seminar, Menahga, MN 9/2016
Weekend of Living Ideas, Spirit Lake, IA 10/2016
The Field Before Us Peoria, IL 11/2016
Parents' Midwest Educational Union, Windom, MN 12/2015
Grace to Build Retreat, Black Mountain, NC 11/2015
Living Ideas Retreat, Okoboji, IA 10/2015
Rochester Area Charlotte Mason Gathering, Rochester, MN 9/2015
Wonder Together, Ontario, Canada, 8/2015
Living Education Retreat, Villa Maria Retreat Center, Frontenac, MN 7/2015
Charlotte Mason Institute Conference, Wilmore, KY 6/2015
Awakening Session, Shalom Hill Farm, Windom, MN, 5/2015
Homewoods Gathering, Little Flock, Arkansas, 5/2015
Awakening – teacher training workshops -Windom, MN  5/14, 12/14, 5/15
CM Gathering, A Continuing Conversation, Peoria, IL – 7/2014
Living Education Retreat, Shalom Hill Farm, Windom, MN – 7/2014
AHEC, Pigeon Forge, TN – 6/2014
Gardner-Webb University, Charlotte Mason Institute, Boiling Springs, NC – 6/2014
NICHE Conference, Des Moines, IA – 5/2014
Sioux Falls, SD, Small Things Seminar – 1/2014
Rochester, MN, Small Things Seminar – 8/2013
Living Education Retreat Shalom Hill Farm, Windom, MN – 7/2013
Ferrum College,Charlotte Mason Institute Conference, Ferrum, NC,- 6/2013
Marshall-Lyon County Library, Small Things Seminar, Marshall, MN – 5/2013
Mission Orthodox Presbyterian Church, Small Things Seminar, St. Paul, MN – 5/2013
Cathedral High School, Small Things Seminar, St. Cloud, MN – 3/2013
Living Education Retreat  Shalom Hill Farm, Windom, MN – 7/2012
ChildLight USA Conference  Gardner-Webb University,  Boiling Springs, NC – 6/2012
Living Education Retreat  Shalom Hill Farm, Windom, MN – 7/2011
ChildLight USA Conference  Gardner-Webb University,  Boiling Springs, NC – 6/2011
Teacher Inservice Presentation Mountain Lake Christian School  Mt. Lake, MN – 8/2010
Living Education Retreat  Shalom Hill Farm, Windom, MN – 7/2010
ChildLight USA Conference   Gardner-Webb University Boiling Springs, NC – 6/2010
Prairie States Christian Home Educators' Conference Sioux Falls, SD – 5/2010
Living Education Retreat   Shalom Hill Farm, Windom, MN – 7/2009
ChildLight USA Conference   Garnder-Webb University, Boiling Springs, NC – 6/2009
Living Education Retreat   Windom, MN – 9/2008
Minnesota Association of Christian Home Educators (MACHE)  Duluth, MN – 4/2008
A Day Away   Mt. Pleasant, MI – 7/2007