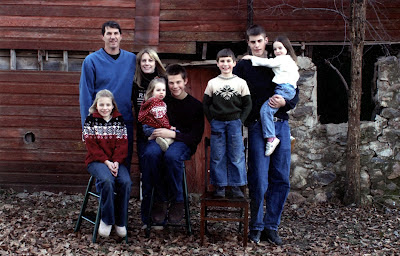 About 7 years ago…
When my adult children were young, my husband
and I were involved with a group of committed parents who met to read and
discuss books on parenting. It seemed
like every month a new expert would publish a book about how to raise
children. More than one author claimed
to have the corner on God's method, which proved perplexing when often they suggested
opposite strategies and systems. About
that same time, I was studying and researching the works of the late British
educator, Charlotte Mason. It didn't
occur to me until a few years later that I was already reading an excellent
handbook on parenting and that this woman, childless though she was, had more
wisdom, experience and foresight than many of our modern-day experts.
I had been working through the six
books, skimming through what I thought were antiquated stories and advice on
child-rearing. After all, I had been
reading them to glean homeschooling tips
and strategies, not for information on how to raise a family! I soon realized that I was missing out on
some of the best parenting advice available and quickly changed my approach. Pick up any volume of her six-volume series
and soon you will see the value and importance she places on the role of the
parent.
If I were to tell you that there was
a philosophy of child training that could align and support your philosophy of education, character
development and spiritual formation– wouldn't that be exciting? A unifying philosophy! This is exactly what Mason has done. Every practice has an underlying principle to
support it and because of this, a parent who studies Mason's philosophy can
assess any unique, modern situation whether in parenting or education, and make
an informed decision or plan of action.
That is, if they are willing to do the reading and critical thinking.
Let me give you an example. In Formation
of Character (Vol. 5) we read the chapter "Mrs. Sedley's Tale" which deals
with lying in a young girl, Fanny. What
we do not find is a quick fix, a one-size-fits-all solution. Yes, lying is recognized as sin, but Mason's
solution is for the parent to cultivate the knowledge and love of truth in the
child. One of the many ways she
suggests going about this is to have the
young child look outside and describe the scene accurately, noticing all there
is to see, having the child return to the scene until all has been thoroughly
observed. Certainly, this will help with
truth-telling but it will also encourage accurate attention to detail and when
done correctly, a love of truth. You can see how the parenting scenario
supports the future school life as well as the character and spiritual
formation of the child.
Mason's parenting advice is
wide-ranging, covering specific and general principles. She spends considerable time discussing the
importance of habits, outdoor life, and the will, among dozens of other
topics. But it is her observations on
the role of parents that provide the basis for many of her ideas regarding
child-rearing. These big ideas – parents
as rulers, parents as inspirers, and parents as revealers – give us much food
for thought.
Though the title "parents as rulers"
might sound extreme and dictatorial to our 21st century ears, this
is quite far from what Mason had in mind.
She says, "A ruler who fails to govern is like
an unjust judge, an impious priest, an ignorant teacher; that is, he fails in
the essential attribute of his office. This is even more true in the family
than in the State." (Vol. 2, p. 11) If we as parents don't recognize,
understand and act appropriately in our God-ordained role of steering our
families, it may result in shipwreck.
Holding the title of parent does not make one a good parent. Parents as rulers should call to mind wise,
compassionate and noble leadership of their families.
My favorite is
"parents as inspirers". While this
conjures up thoughts of urging our children to noble thoughts and deeds, Mason
also had a much more practical yet daunting idea in mind. She says of the child:
That he should take direction and inspiration from
all the casual life about him, should make our poor words and ways the
starting-point from which, and in the direction of which, he develops––this is
a thought which makes the best of us hold our breath. There is no way of escape
for parents; they must needs be as 'inspirers' to their children, because about
them hangs, as its atmosphere about a planet the thought-environment of the
child, from which he derives those enduring ideas which express themselves as a
life-long 'appetency' towards things sordid or things lovely, things earthly or
divine. (Vol. 2 p. 27)
Thirdly,
parents are to be revealers of God to their children. "The boy who knows that his father and his
mother love him with measureless patience in his faults, and love him out of
them, is not slow to perceive, receive, and understand the dealings of the
higher Love." (Vol. 5. p. 116) When
Mason describes the role of the parent leading the child to Christ, it comes
across as one of the most beautiful duties of parenthood. Bringing up children in the nurture and
admonition of the Lord is our highest role.
This article is barely the tip of the iceberg
when it comes to Mason's parenting advice.
But I believe that there is one principle that I would consider to be
the best parenting principle out there.
It's an idea that I can always quickly recall and apply to even the
stickiest parenting issue. Just this –
"Children are born persons". Susan
Schaeffer Macaulay, in her classic work For the Children's Sake, shares this
simple experiment which we would all do well to try with our children.
Take a small child on your knee. Respect
him. Do not see him as something
to prune, form, or mold. This is an
individual who thinks, acts, and feels.
He is a separate human being whose strength lies in who he is, not in
who he will become. If his choices made
now and in the future are to be good ones, this person must understand reality
and see the framework of truth. In the
shorthand of language we call this "knowing."
The child is a person who needs to grow in knowledge. (p. 12)
Do you see yourself as a wise ruler, noble
inspirer, or appointed revealer to your children? If these ideas resonate with you, consider
looking at Mason's writings with an eye not only toward a homeschooling method,
but also toward a way to raise your children.
They are, after all, people made in His image.
From joy to joy,
Nancy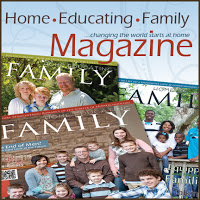 Originally published in Home Educating Family Magazine® (issue 1 – 2012 – coming out in April!)