"Liberty!  Freedom!  Tyranny is dead!"
Our Charlotte Mason co-op, Truth, Beauty, Goodness performed Julius Caesar for Family Night last week.  In honor of the Bard's 447th birthday, I wanted to share with you some pictures and explain how we went about the play.  From the audience's response as well as the children's, I would say this has been our favorite and best play to date!
We met 6 times over the course of 12 weeks.  Students were to listen and read one act, then come back to co-op and present their narrations.  At the end of this post  is an outline of the variety of narrations assigned, each student presenting at least once and with a narration that was within their developmental capacities.  The students were to listen to the scene only once at home, then prepare their narrations.  Oh, my, did they shine!  It was one little girl's first written narration (age 9) – she was so proud to read it to us (she wrote a diary entry as a young girl in the mob scene at the funeral).  The videotape of the news reporter in a toga, reporting the assassination as it unfolded, was spot-on.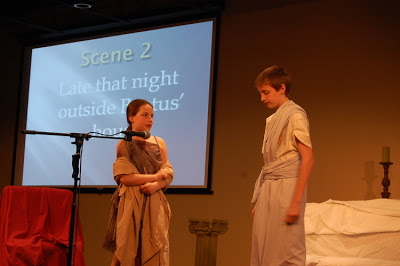 Gentle Portia and Brutus
Here is LizzeBee's (9)  poem narration of Act 2.4
Portia finds out the conspirator's plan
and  says to the servant Lucius,
"Go to the capital- an errand for thee."
"But why?" says the servant Lucius.
"For  word from my husband, Brutus.

He left ill in his mind this day.

But don't go yet – I hear a noise!"

Lucius says, "I cannot stay!"

"Quiet! Listen more closely.

Ahh-the soothsayer comes this way!"

"I hear it now!" Lucius cries,

"What brings you here today?"

"I go to warn Caesar at the capital.

He has not arrived there yet.

He ignored me on the streets one day-

That I am sure he'll regret."

"I must go,"says the soothsayer,

I'll be trampled to death –

Senators, praetors, citizens-

Did I mention their foul breath?"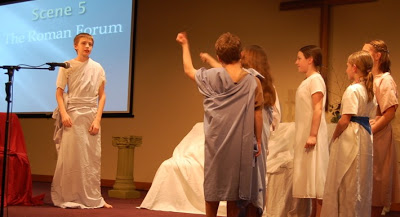 "We will be satisfied; let us be satisfied!"
Julius Caesar Narration Ideas
(function() { var scribd = document.createElement("script"); scribd.type = "text/javascript"; scribd.async = true; scribd.src = "http://www.scribd.com/javascripts/embed_code/inject.js"; var s = document.getElementsByTagName("script")[0]; s.parentNode.insertBefore(scribd, s); })();