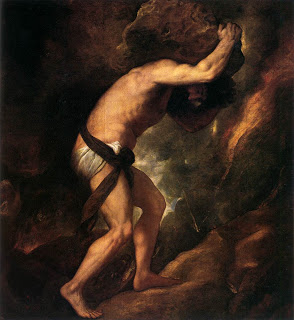 Sisyphus by Titian (1548)
We had a Charlotte Mason support group meeting last night. I never know what we should call ourselves! "Support group" sounds like we all have a problem and need help. Sometimes I say "PMEU" for Parent's Midwest Education Union, but then NOBODY knows what it is we do. "Book discussion group" is probably the safest bet. Sigh.
We talked about the fact that Mason says that the teacher, who is often willing to "lay down his life" for the student, still cries out in frustration at trying to teach the students.
"But how?" cries the teacher, whose life is spent in the labour of Sisyphus." (Vol. 6. p. 240)
In Greek mythology, Sisyphus spent his life tricking the gods. In his afterlife, he was doomed to push a boulder up a hill, only to have it roll down once he reached the top. The term "labor of Sisyphus" refers to a fruitless task that is perpetually repeated.
In Mason's day, she was lamenting the teacher's improper view of the child, which resulted, among other things, in teaching methods that didn't teach the child much at all. Indeed, she thought that self-education was the only true education, so despite the "teaching, talk and tale, however lucid or fascinating, effect nothing until self-activity be set up." In effect, the teaching becomes a labor of Sisyphus, doomed to frustrating repetition.
We had in attendance a college professor, private school teachers, homeschool parents and concerned grandparents. Not only did we talk about many of the same issues that Mason saw in her day, but we added a host of other reasons teaching can be a labor of Sisyphus. Add to Mason's list standardized testing, textbooks, disconnected subjects, inconsistent home life and textbooks. Did I mention textbooks?
I think we have chanced on a way that, at any rate, works to admiration, the principles and practice of which I am anxious to bring before you…and it remains with the reader to determine each with himself whether that solution which I here propose is or is not worth a trial. (Vol. 6, p. 249)
Every year, little by little, more of us graduate students educated according to Mason's principles and practice. The trial that was successful 100 years ago is proving to be successful today. More and more schools are opening, one by one. I know that I have more confidence with my remaining students than I did with the first two. It's exciting to know that so many others are now giving her methods a trial.