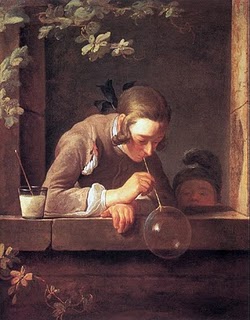 Chardin – Boy Blowing Bubbles
We had a fun economics lesson today! LizzieBee and I were reading one of my favorite chapters in This Country of Ours by H.E. Marshall titled "The Mississippi Bubble". I asked her if she knew what the Mississippi Bubble was and she replied, "No. But when we're done, can we please look up a picture of it on your iPad, Mom?"
"Ummm-sure. That is, when we're through reading and narrating the chapter," I said, sporting a bewildered smile. I smiled because I knew she had no idea about the subject matter and that she was probably envisioning a long, giant soap bubble in the shape of the Mississippi. My bewilderment was because I had no idea what we would look up on the Internet.
We read the chapter over a few days, talking and remarking about inflation, greed and gullibility. In short, the Mississippi Bubble was a speculative bubble devised by Scotsman John Law for the economically disabled France. Law promised amazing wealth for those who would buy shares in his company which would be trading all the wondrous, new-found treasures from across the ocean in the Louisiana wilderness. Problem was, Louisiana didn't have any treasures. No matter, people were desperate to get rich quick so the buying of shares went crazy. So, more paper bank notes were printed. Inflation skyrocketed and the rest, as they say , is history.
Marit added her two-cents from reading Whatever Happened to Penny Candy and LeMoyne wanted to know if the run on the bank in It's a Wonderful Life had some similarities. I was then reminded that we were going to look it up on the Internet. Thankfully, I found this excellent, informative and fun cartoon short on the Mississippi Bubble.
There is also a living Landmark book on the subject called The Mississippi Bubble by Thomas Costain.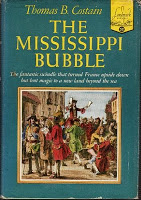 I was curious about other examples of these bubbles. Most fascinating is the speculative bubble "tulipmania" that hit 17th century Holland. If no one has written a piece of historical fiction on that – someone should! There was also a South Sea bubble in 1720 and of course, our very own crash of 1929 which ushered in the Great Depression.
That was our little economics lesson, tucked into our history lesson. While some of the details may be a little abstract for the younger children, you can see it "tickling their brains" as they ask further questions and begin to make connections. Before I homeschooled my children, I will admit that I was like LizzieBee and had no idea what the Mississippi Bubble was. The only reason I was a step ahead of her was that I had been over it twice before with the boys. Aren't bubbles fascinating?
GRATEFULNESSE GIVEAWAY! I'm so thankful for those who read and interact with my blog that I want to send a special little something out to two of you. The 100th person to "like" Sage Parnassus on Facebook will receive a humble gift from me. It is presently at 97. Also, the 100th person to "follow" my blog will get a snail mail treat. I now have 78 followers. What will it be? A book, of course!