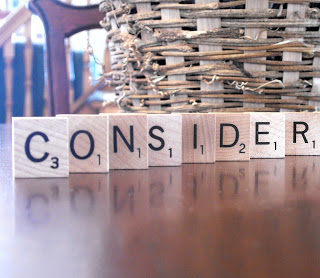 Did you jump on the bandwagon of picking a word for 2011? The point is to choose a word that will inspire you in the coming year, a word that you would like to see manifested in your life or family. It's a good idea, I think. So, did you pick one?
I finally settled on a word. It's consider. It works for me on so many levels. It simply means to think carefully about something. Even consideration works as it means to think carefully and continuously. My mind immediately goes to the verse, "Consider the lilies how they grow: they toil not, they spin not; and yet I say unto you, that Solomon in all his glory was not arrayed like one of these." (Luke 12:27)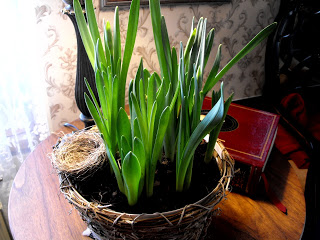 Pot of bulbs for Valentine's Day. Note the nest the littles added. Sweetness.
So, when I came across this story in The Story of Charlotte Mason by Essex Cholmondley, I knew I had my word for 2011. Never mind that it's already halfway through February.
It seems that some of the senior students wished to have more comfortable furnishings at the House of Education – some sofas or overstuffed chairs, perhaps? Seems like a reasonable request. They presented their ideas to the other students who were not moved at all. They liked the open rooms and small chairs as it made it easier to move about and huddle by the fire. Why change things?
These older students were determined to update and improve the seating situation. (I want to insert a joke here about feng shui and Mason, but I can't make it work…) Undaunted, they proceeded to a conference with Ms. Mason. They cautiously approached their unsmiling mentor.
In a few quiet words which compelled the utmost attention she said that there was one word in the language which they must learn to understand, the word consideration. They must consider before they reached a conclusion. The word implied the power to see principles and to apply them to the notions which inspire common thought. Quietly, sternly, shortly, she made them aware of her horror of idleness of mind, then she dismissed them. They realized that armchairs and sofas were not important matters for conference deliberations. They were also aware that they had been thinking lightly and irresponsibly. That was why they had been quietly and absolutely rebuked. (p. 154)
Well!
Her response does seem a bit harsh, but her advice is good. I suspect that perhaps these students had it coming, as Mason seems to have previously considered the situation. I also wonder if the importance that she placed on the outdoors had something to do with her response. ("Never be within doors when you can rightly be without." Vol. 1 p. 42) I don't know. But I do think that consider is a great word. I think I'll choose it.