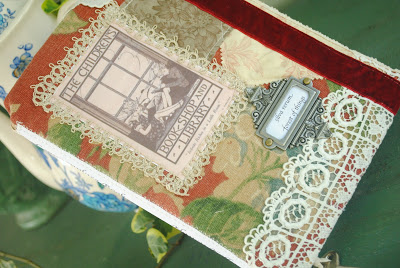 handmade commonplace book – a precious gift from Elizabeth
Who could live if every mouthful of bodily food were held up on a fork for critical examination before it be eaten? – Charlotte Mason, 5.295
How do you teach critical thinking, analysis, or literary criticism? I had the same question when we began homeschooling. All those workbooks, dvds, and instruction manuals from noted education experts in the ginormous convention halls of the homeschooling world beckoning to be purchased – what to do? For those of you pursuing a Mason education, you can relax. Sort of.
Mason states that, "we miss the general principle that critical studies are out of place until the mind is 'thoroughly furnished' with ideas that, of its own accord, it compares and examines critically." (Mason, 5.294)
Analytic and critical instruction can ruin an education, no matter who is instructing or where the education takes place. The story is told about when reading Shakespeare's The Tempest, the "entrancing whole is not allowed to sink in, and become a part of him" because of the linguistic criticism and interpretation of the teacher. These things become a distraction to the student.
In a CM education, this holds true for all subjects, not just Shakespeare. To let the student's mind act upon the material without teacher interference is a daunting concept. Many educators feel they need to explain these things to their students and often feel inadequate to the task. Enter those workbooks, dvds and books by the experts.
"But wait!" you say. If I don't fortify my student's mind with how to think about things according to our ________ (fill in blank with your choice – tradition, worldview, college of choice, e.g.), they might reject all that we hold dear or fall into heretical teaching or at the very least, be ignorant!" Here is where it gets interesting. Mason claims the opposite; she says that unbelief is the result of an education that has taught criticism before its time.
"This malady of unbelief, again, is common to serious minds, educated to examine all things before they know the things they criticise by the slow, sure process of assimilating ideas. If we would but receive it, we are not capable of examining that which we do not know; and knowledge is the result of a slow, involuntary process, impossible to a mind in the critical attitude." (Mason, 5.294)
I am still thinking all of this through. If one accepts Mason's view on this, there is still much to be done. She says it best:
"Let us who teach spend time in the endeavour to lay proper and abundant nutriment before the young, rather than in leading them to criticize and examine every morsel of knowledge that comes their way." (Mason, 5.295)
This is huge and has ramifications for K-12. What do you think?
From joy to joy,
Nancy
The next post continues these thoughts – Borrowed Views: An Addendum.