It's always fun to find an influential book list in my stacks of papers! Here is a wonderful list by none other than Susan Schaeffer Macaulay that picked I picked up at a L'Abri conference and have consulted many times over the years. The list was printed in another great resource for mature teens and up, Critique by Ransom Fellowship.
One of these I read aloud in our school this year and it was a favorite and I plan to write a post on it soon. Are any of the titles here new to you? Is there a favorite of yours here? Share your thoughts in the comments!
Click here to download a copy of this page.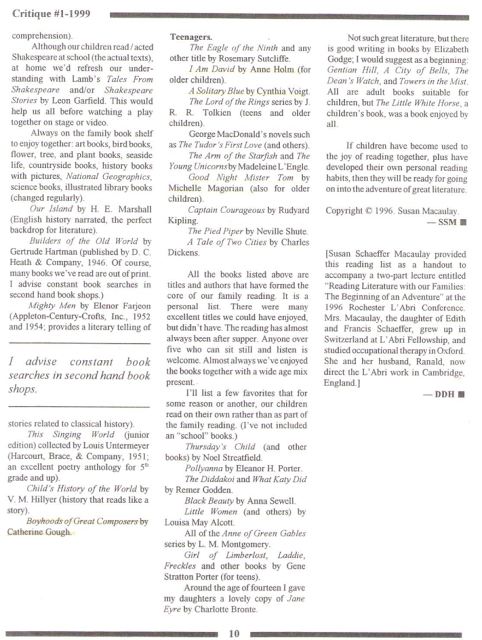 Click here to download a copy of this page.
Here are a few other interesting book lists:
A Children's Reading List by Jerram Barrs
Little Known Book Treasures by Jeannette Tulis
Little Known Book Treasures Part 2 by Jeannette Tulis
A Book List (Lois Lenski)
Newberry Reads by Donna Johnson
Grilling and Reading (Kelly kids)
There are more book lists on my blog, but that's probably enough for now.
Warmly,
Nancy